I really don't even know where to start with this little gadget. Hands down this is the best pulse oxygen monitor on the market that I have found.
Pros:
Alarms- Low Oxygen, High and Low Pulse
Reports
Bluetooth connected Phone App
Spot Check Rates While Active
Cons:
Not Waterproof (probably not something easily done either)
Price (a little on the high side but well worth it)
Battery Life (approx 12 hours per charge)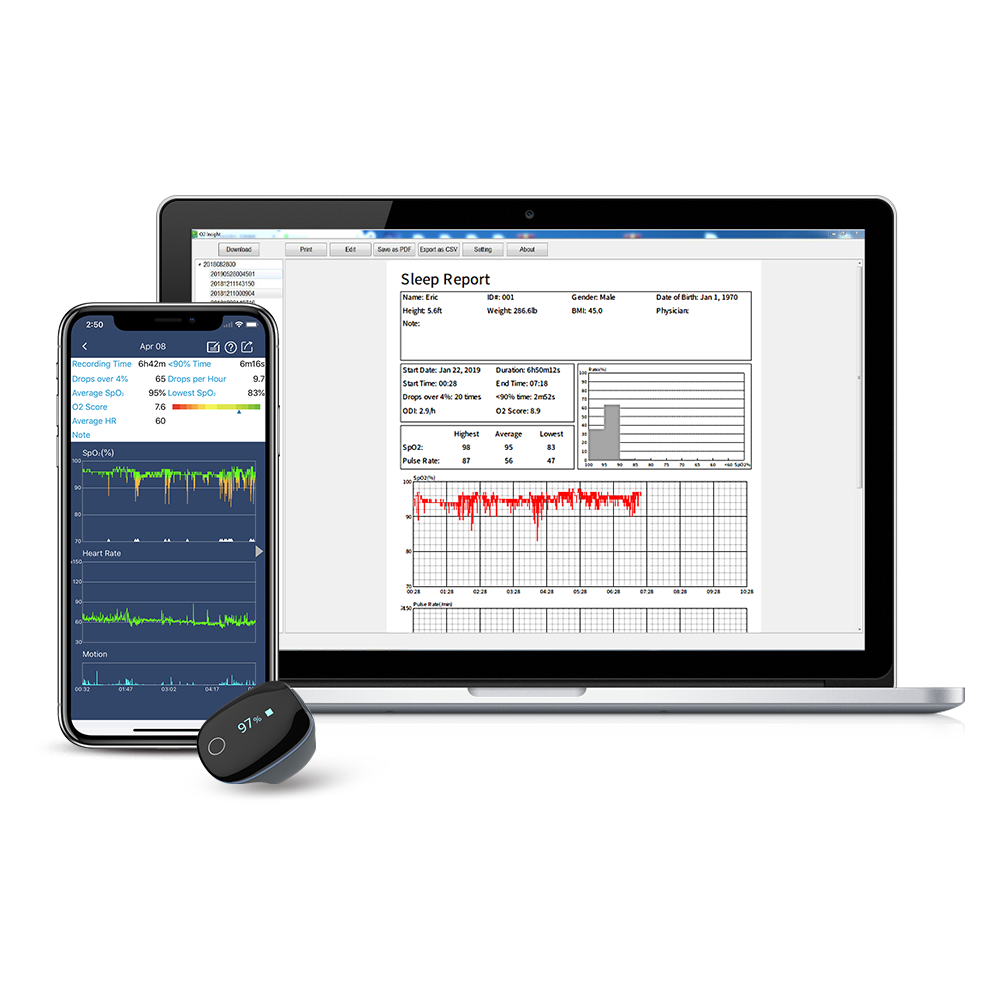 Many consumer-grade pulse oximeters have a hard time getting a reading while you are active. Forget smartwatches, they require you to remain still while they check your oxygen saturation too. This is of no benefit to people with heart or lung disease that need to spot check while active and resting.
While the price tag may seem a little high at $165 let me tell you why it's worth every penny. Especially with Christmas around the corner, this might be the perfect gift for someone you love who is chronically ill. Personally, if you have it in your budget to buy 2, I would highly recommend doing so especially if the person is on oxygen 24/7. Let me explain why.
Whenever I don't wear my O2ring, I almost always regret it. The reason is, frankly, I am a dumbass that rarely listens to my body's warning whistles until it's to the point of no return. This little device has kept me from going past the point of no return many times since getting it.
Usually, I don't realize there is something wrong with my oxygen until I have that horrible low oxygen headache. Which feels like someone took a blender to my brain. No alarm bells go off when I am getting more short of breath because I am always short of breath. Even as the headache is building, my internal alarm bells fail to sound the warning. This O2 ring can literally save you from all the headaches low oxygen saturation causes your body.
I live in a house with critters of all kinds. If it isn't my husband or kids accidentally disconnecting my oxygen, it's one of the four-legged kids. Or it's a crack in the line that is making it so my oxygen flow is reduced. One time, this ring alerted me to my oxygen concentrator failing as the compressor was dying and my oxygen flow dropped.
Yes, this ring alerts you not only when your oxygen is dropping but heart rate increase and drop as well. It has several levels of vibration intensity that you can control. You can also custom set your thresholds for your oxygen and heart rate in the phone app.
Several weeks ago my oxygen kept falling and my heart rate kept rising. I couldn't figure out why for the life of me. To top it off I wasn't feeling well so I knew something was wrong. However, my line was connected and the tubing was new. So I just kept hitting the ignore.
Over the next few hours, I started feeling even worse and my alarms kept going off. This time I listened to the monitor and decided to check my flow rate was on my concentrator. This is usually set to 4 LPM. My concentrator was barely registering 1 LPM. At first, I assumed a dog bumped into it and dropped my flow rate down. But when I tried turning it up nothing happened. The next thing I knew, the ear-piercing alarm from my concentrator was going off too. For several hours this little device was trying to tell me something was wrong, I just wasn't listening.
Had I listened to my O2 Ring when it first started alerting me of the problems I would've gotten my concentrator to my supplier during normal business hours instead of relying on their emergency service?
Another time when moving from house to vehicle, from concentrator to tank, I forgot to connect the tubing to the tank or didn't secure it tight enough. I turned the tank on but somehow the O2 line wasn't connected. Within a mile down the road, my O2 ring was vibrating. My son immediately checked my tank and noted the detached tubing. I was able to thwart a severe headache because I was wearing this ring.
I decided to take this ring to our local hospital's Cardio-Pulmonary Rehab to let them try it out for a few weeks. I wanted to get the opinion of respiratory therapists who could run this unit through testing along with their units. This also allowed other patients to try it out to get even more thoughts and opinions. Just like me, everyone loved it. The RTS gave it a 9/10!
If you need a pulse ox this is the best one I have found on the market. If cost is a concern they do make another similar unit. It just doesn't have all the bells and whistles of this unit but you should check it out below.
Please note, there are no affiliate links. I do not write these reviews to make money on your clicks. I write to educate and help people make informed purchases.
and
https://getwellue.com/pages/wearo2-wearable-pulse-oximeter (I have not tested this unit). This just measures O2 according to the comparison chart. Although images and descriptions show it does both pulse and O2, this unit is also waterproof! It is also documented as lighter, has a longer battery life, and is $65.00 cheaper.
We are dedicated to developing products with medical-grade accuracy but consumer friendly, finding an easier and more modern way to track your wellness, we believe you can get peace of mind to live a healthier and longer life.